Why Study MSc Optometry?
The course is a post graduate professional degree in Optometry, qualifies students to provide proficient diagnosis and vision care. As primary eye care practitioners, optometrists often are the front liners who can help detect potentially serious conditions such as diabetes by noting the changes in the eye bought about by the condition. Optometrists work with Ophthalmologists and other as a team to diagnose visual problems. In the scenario if increasing myopia and other visual ailments, scope for optometry is only growing in the country.
MSc Optometry Course Details
| | |
| --- | --- |
| Course name | Masters of Science in Optometry (MSc Optometry)  |
| Collaboration | PRIST University |
| Specialization | Optometry |
| Duration | 2 years / 4 semesters program |
| Eligibility | B.Sc Optometry/B.Optom(full time) from a recognised University |
| Admission Process | Entrance exam and interview |
| Fees | INR 1,50,000 / year |
Why Study MSc Optometry at DAIO?
This program offers a strong theoretical base & hands-on exposure in clinical training with the latest technology from Dr. Agarwal's Eye Hospital, India's leading eye-care chain. 
The well-built curriculum enables professionals to gain expertise in the major fields of Optometry such as advanced Contact Lenses, Pediatric Optometry, Binocular Vision, Vision therapy & rehabilitation, Low Vision, Sports Vision, neuro optometric rehabilitation and Occupational Optometry etc. The best part of the program is the list of elective subjects that adds essence to the curriculum. Students are also trained in advanced research methodology and statistics. They also gain knowledge on the business opening up opportunities in entrepreneurship.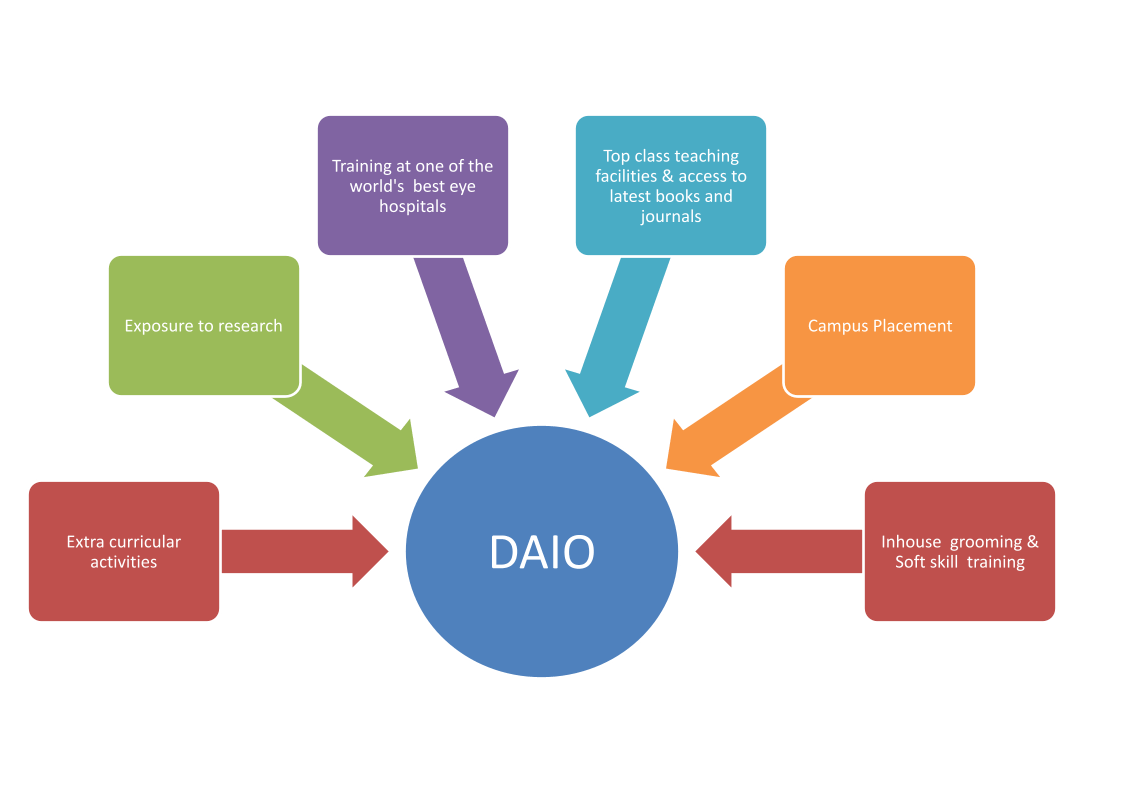 MSc Optometry Syllabus
The M.Sc Optometry program, each year is divided into two semesters. A brief description of subjects for each year is given below.
Year
Semester
Subject

First year
Semester – I

Optics
Research methodology & Biostatistics
Epidemiology & community optometry
Elective I
Research Project
Clinic I

First year
Semester – II

Advanced Contact lens I
Orthoptics & Vision therapy
Ocular Diseases I
Elective II
Research Project
Clinic II

Second year
Semester – III

Advanced Contact lens II
Low vision care and rehabilitation
Ocular Diseases II
Elective III
Research Project
Clinic III

Second year
Semester – IV

Ocular Diseases III
Ophthalmic imaging
Refractive surgeries
Elective IV
Research Project
Clinic IV
Electives
Occupational Optometry

Sports vision

Myopia control

Neuro optometry

Business aspects in Optometry practice

Visual needs in special children

Clinical Photography & Imaging

Tele optometry
Careers after completing Mastor's of Optometry Programme
| | |
| --- | --- |
| Academics | Working in a university or college as a teacher or mentor to optometry students |
| Research | Conducting research on optometric technology and treatment.  |
| Independent  Practice   | Owning individual practice to provide direct patient care |
| Specialty Practice  | Low Vision, Vision therapy, Contact Lens, Sports Vision Clinic, Neuro Optometry, Myopia Control clinic |
| Retail/Optical Setting | Practicing as consultant in a retail settings such as Lawrence and Mayo etc |
| Optical/Contact Lens Industry | Performing clinical research, developing eye-related products, or providing patient care within a network of clinics |
| Corporates/MNCs | Supporting  Vision care through marketing optical lens, Contact Lens, IOL |
| Government jobs | In the armed forces, Public Health Centre, UPHCs and different government hospitals |
| Optometric / Ophthalmologic Professional Settings | Working in a institutions with ophthalmologist to co-manage patients |
| Professional Services | Providing professional services to the government, speciality sports facilities etc |
Eligibility Criteria
UG degree in optometry from a UGC recognized university or equivalent from a UGC recognized university with minimum aggregate of 50% marks.
Students with degree from Open University/ vocational courses degree are not eligible.
Students with degree from Non UGC University ordegree program with less than four years (3 years academic + 1 year internship) are not eligible.
Students with regular (full time) under graduateprogram are only eligible. A diploma student obtaining degree through part time courses or any other methods is not eligible