At Dr Agarwal's Eye Hospital, we are visited by patients from a diverse age group. According to their age and problems, we try to recommend the best eye treatments that are feasible and fits right in their budget. The other day, we met Rhea, a young working professional who wanted to learn more about cosmetic surgery and blepharoplasty surgery.
As someone who has been working in the medical sector for multiple years, we understand the impact of underlying insecurities that people have about their bodies. This is one of the many reasons why the beauty industry is rapidly flourishing, especially amongst the younger generation. Even though the idea of external beauty is debatable, one thing that must be encouraged is the journey of self-love, the way a person feels about themselves.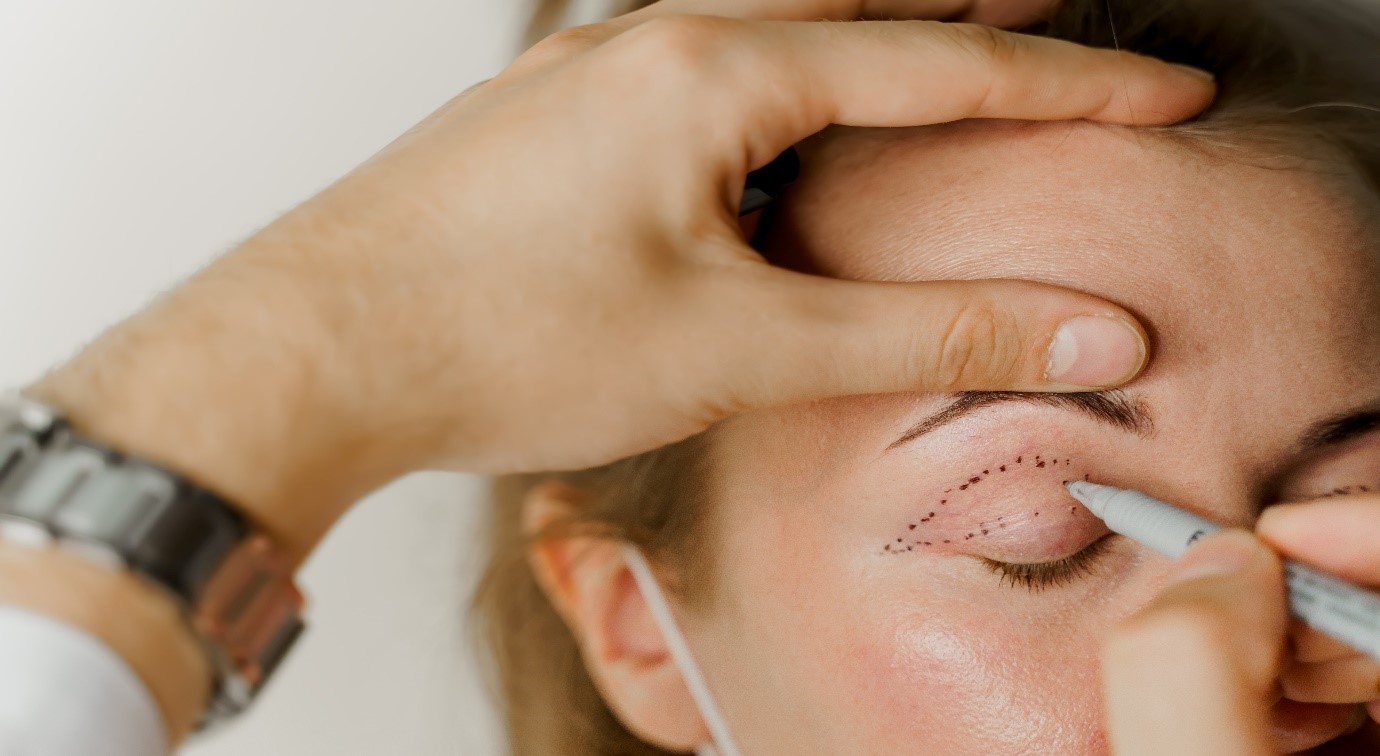 Being at the start of her career and living in a fast-paced metropolitan city, Rhea expressed her concern about the emergence of wrinkles, fine lines, and puffy eyes. She spoke about how, in the last few months, she has spent a huge amount of money on different eye gels, under-eye creams, and eye masks, but it has all been in vain. That's when we introduced her to the idea of cosmetic ophthalmology.
Fortunately, today, with the help of the right professional expertise, advanced equipment, and best-in-class infrastructure, the medical sector is also stepping to the forefront to help people look the best versions of themselves in the safest way possible.
In simple terms, cosmetic ophthalmology also referred to as oculoplasty, is a significant branch of ophthalmology that not only deals with eye diseases but also with structures around the eye like orbit, eyebrows, eyelids, tear system, and more. Here are some of the many prominent treatment procedures under cosmetic surgery:
In layperson terms, a filler is referred to as an injection that is used to restore a youthful appearance and facial volume. Dermal filler is injected by the surgeon into the depressions right below the eyes, the line between the mouth and nose, and around the forehead and lips. Since anaesthetic cream is applied and fine needles are used in this procedure, these injections are almost painless.
Carried out by an oculoplastic surgeon, this is a surgical treatment for treating baggy, hooded, or fatigued eyelids by carefully removing fat, skin, or muscle from the lower/upper eyelid. This procedure drastically enhances the cosmetic appearance while increasing the visual field.
Botox or Botulinum Toxin Injections
This is a highly prevalent aesthetic procedure that involves an injection of botulinum toxin into the muscles. Usually, this procedure is used on muscles that cause prominent activity lines of the face like lines around the mouth, vertical frown lines, smile lines, crow's feet, and more. Similar to dermal filler, this procedure is also carried out by using fine needs after applying an anesthetic cream, making the whole process comfortable and painless.
As we proceeded in our conversation, we asked Rhea to give us a brief insight into what her usual day looks like. Being a content strategist, she is glued to her laptop for the most part of her day, getting minimal sleep and rest.
That's when we understood the reason for her tired and baggy eyes, suggesting blepharoplasty surgery. In order to give more clarity of the subject, we got Rhea in touch with some of the many benefits of cosmetic and blepharoplasty surgery:
In several instances, droopy eyelids obstruct the line of vision. However, since blepharoplasty up tights the lids, it automatically leads to clear vision with subtly lifted eyebrows. Droopy eyes or eyes, in most cases, are a consequence of excess tissues and skin on the eyelid, which is effectively treated with blepharoplasty surgery.
With the introduction of technological and digital advancements, people across different age groups are spending a considerable amount of time on screens via laptops, phones, computer systems, television, and more.
When a person does not get proper amount of rest, it leads to the formation of dark bags under their eyes, giving a fatigued appearance. Blepharoplasty surgery can safely treat eye bags, giving you a radiant and refreshed overall look.
Most people struggle with fine lines when they reach a certain age. Even though several quick fixes are available in the market, blepharoplasty surgery has proven to be a reliable solution to fix fine lines. This treatment lifts both lids of the eye, smoothly reducing the number of visible numbers of lines from the eyes.
Image source: Shutterstock
After an hour of getting a detailed understanding of different cosmetic surgeries and benefits, Rhea decided to go for blepharoplasty surgery. Last Friday, after ensuring that she was completely ready and relaxed, we carried out the procedure with our best-in-class medical equipment and technology.
Today, it has been about two weeks since her surgery, and while she entered the hospital in the evening, we saw a new beaming face—a young woman with a sparkling smile and regained confidence!
Get Advance Cosmetic Surgery at Dr Agarwal's Eye Hospital
At Dr Agarwal's Eye Hospital, we have a team of world-class oculoplastic surgeons who have expertise in the management and treatment of eyelid ptosis, eye injuries, brow lift, facial palsy, congenital deformities, and more.
With 100+ hospitals across 11 countries, we have an experienced team of 400 doctors who have been revolutionizing healthcare since 1957 by keeping eyecare at the forefront for over six decades. In addition to providing top-class aesthetic procedures and cosmetic surgery, we are also known for offering treatment for glaucoma, cataract, diabetic retinopathy, retinal detachment and more.
To learn more, explore our website today!